The Secrata engineering team has been hard at work preparing for the latest and greatest Secrata release. As we approach our GA date we would like to give a sneak peek at some of the latest and greatest features and tools that Secrata will have to offer.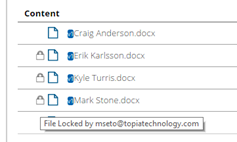 Secrata workspaces can be used to support many different workflows. One of the most popular requests that we get is for the ability to create 'read-only' files so that other workspace members cannot make unauthorized changes. Secrata is preparing to launch a file locking feature that will allow users to lock files such that no other user can delete, edit or otherwise modify the file. This feature is sure to be a hit with project managers who wish to share project timeline details with their teams, or with product trainers who are sharing training documents with new employees. We would love to hear how your team could benefit from this granular file locking control.
Transferring large batches of files has always been supported in Secrata, but with the new prioritization feature, web users can quickly choose which files they need transferred first, and which files can wait until the end. This feature will help with users under tight time restrictions who need to quickly get files into the Secrata platform.

File Management is about to get a whole lot easier. Secrata is developing a mechanism to allow users to copy and paste their files around to other folders or other Secrata workspaces. Users wishing to move files between workspaces had previously needed to upload new versions of those files to the new workspaces. Secrata's copy and paste functionality makes that whole process significantly simpler. As always, Secrata allows you to manage any file type, and also handles very large files.
The upcoming Secrata release is our most exciting release yet, and we can't wait to get it out the door and into the hands of our customers.
Blog Post Written By: Matt Seto, Secrata Product Manager