Team collaboration is a big deal. As a Product Manager at Topia Technology, I work hard to ensure that our entire team is on the same page as we move forward. We write proposals, business requirements, product spec sheets, test plans, deployment strategies, and many more documents for every project that we undertake. Keeping these documents organized is integral to maintaining our release targets.
Secrata is a great tool for keeping your files organized and in one place for your project. Using Secrata workspaces and folders, you can invite all of your project colleagues to manage and store project files in a unified location. Employees can make edits to project files and upload new versions to the workspace to ensure that all of your project documentation is up-to-date and current. No more dealing with multiple document versions on different computers. With Secrata workspaces you always know where the latest document version is, and you can always get a copy of it!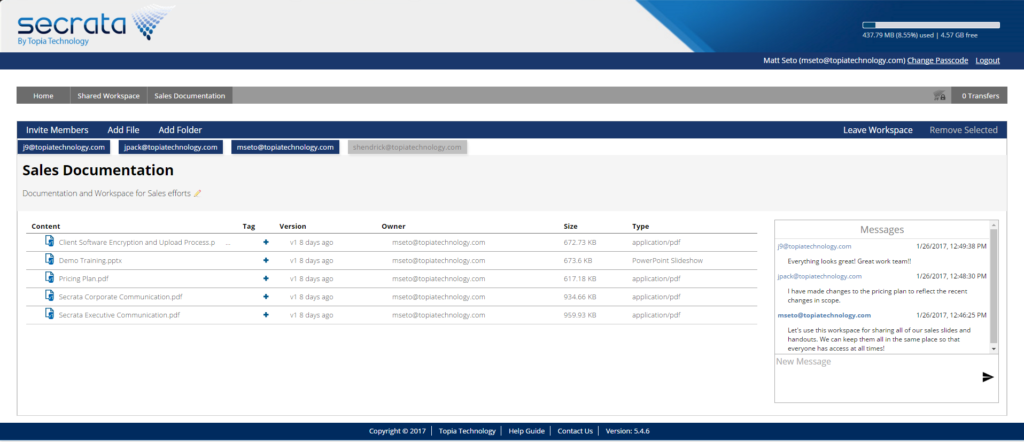 The power of Secrata workspaces is multiplied when you consider that workspace can be shared with users outside of your IT infrastructure. Coordinating projects with multiple organizations is streamlined when all users have access to the same collaboration space. With Secrata workspaces, IT departments don't need to create and manage new user accounts for internal network. If you like, Secrata can exist entirely without the need for IT departments to onboard new users or manage accounts for your collaborators.
Your Secrata workspaces are always secured by Secrata's patented chunking-and-encrypting technology, which ensures that your data is impervious to SSL and TLS exploits. Have the convenience of sharing all of your files, and rest assured that your sensitive information remains secure with Secrata.
Blog Post Written By: Matt Seto, Secrata Product Manager