Cobalt is comprised of three layers; the Capture Layer, the Data Science Layer and the Knowledge Feed Layer.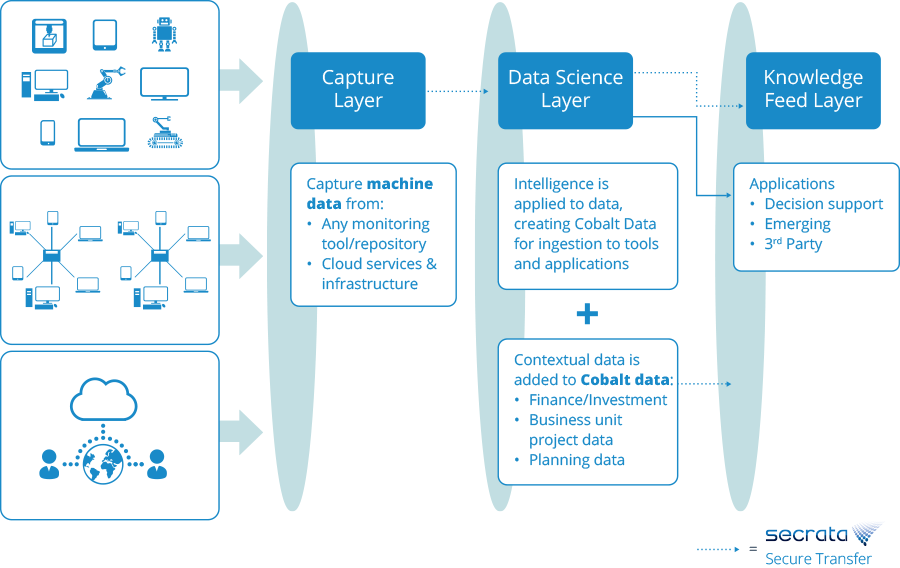 The
Capture Layer leverages
existing infrastructure collection points/tools to include any monitoring tool/repository, cloud service and infrastructure. This capture layer collects machine data from anything that connects to the network: sensors, machines, devices, industrial components, cars, charging stations etc. It is the total visibility that provides the starting point for Cobalt. The Capture Layer also utilizes information on protocols, applications, patch levels, and security vulnerabilities. The capture and collection of the machine data is securely sent to the cloud into the data science layer.
The Data Science Layer employs critical expertise of the data and its source, evaluating the veracity of the data provided and applying intelligence to gain contextual relevance of the specific problems being addressed. Once the machine data is transformed into Cobalt data it is processed through Cobalt's machine learning engine. Far more powerful than software driven analytics, Cobalt's data driven process transforms the machine data into actionable information that can then be used for a variety of strategic initiatives.
The Knowledge Feed Layer enables emerging and 3rd party applications as well as existing enterprise tools to provide decision support. This Cobalt Knowledge leverages the power of data and the universal story it can provide in a dynamic and transforming environment. This knowledge also brings to light root cause issues that can be acted upon and further automated to predict and avoid.
By enhancing the Cobalt data with contextual data from applications such as finance/investment, business unit project data, HR data and planning data, new applications can emerge to support strategic initiatives and high impact decisions and planning.